Chalonnes sur Loire
Chalonnes sur Loire is a small wine growing town of 6 000 inhabitants, located at the meeting point of three rivers : the Loire, the Layon and the Louet.
The town owes its registration on the Unesco World Heritage List to the "Corniche Angevine", a picturesque road surrounded by the famous vineyards of Anjou and Coteaux du Layon which will take you to Rochefort-sur-Loire, while overlooking the three valleys.
When leaving the Beausoleil Bed & Breakfast, you will enjoy walking on the quays of the Loire towards the St Maurille Church, which was built in the 12th century on a rock overhanging the river.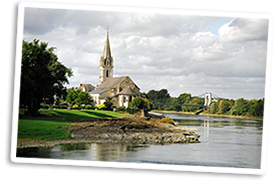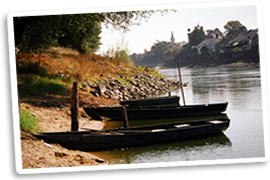 Then, you can go on to the former roman cemetery of the Malpaves and walk to the point where the Loire and the Layon meet.
Or even go for a stroll through the roads of the old Chalonnes, with their typical names, rue des Fredons, rue du Port Garou, rue dérobée, to the Notre Dame district, with its church and the St Peter's tower, remains of the former castle of Chalonnes.
You should also have a look at the covered market (Les halles), a typical building of the thirties where the food market takes place every tuesdays and saturdays..